About 2 years ago I "acquired" a pontoon boat for free. It was a salvage and had no title, but was basically complete including a 10hp longshaft remote electric start johnson. Since we live on a canal I figured it would work fine for cocktail hour in the evenings.
It took $300 and a year and a half for the FWC to grant me the title after declaring it abandoned.
So this is a small, simple project compared to others on here (including my ongoing restoration
http://forums.bateau2.com/viewtopic.php ... am#p125319
, had to take a break during a couple knee surgeries and recovery). Since I bought the wood at BBC I'll put up a couple pics.
Boat as I got it, rigged up some supports on the trailer for my center console to get it to my canal.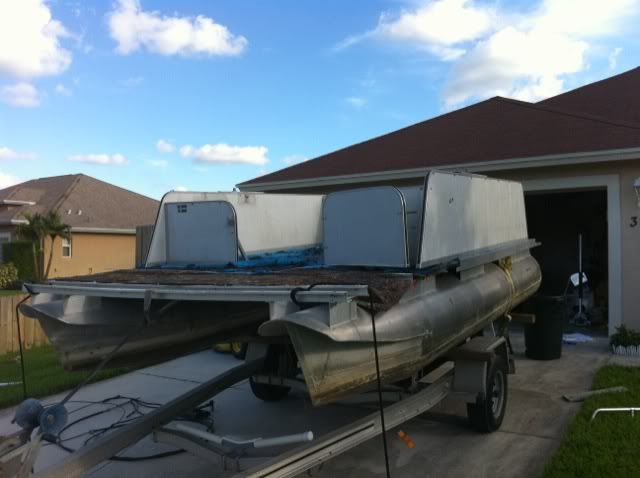 It is ~16x8, with the deck about 14.5'. Made by Stardust in the mid 90s, the development where it was abandoned was giving them away as a bonus for people who bought a townhouse. All Aluminum and Stainless construction, and it was in fresh water, so its in surprisingly good condition other than the rotten deck.
The transom is actually really solid. Would be easy to re-do, and I may if I have some extra material from another project, but its fine for the 10hp for now. Zero rot, not sure what it is treated with.
Stripped all the hardware, then fencing, then the deck.
I bought 4 sheets of 3/4" Greenwood XL Fir last week. Unfortunately the SS large-head decking bolts I ordered didn't come in on time, so I put it down with some temporary pan-heads just to get something done. I still need to figure out whether the railing is salvageable then trim the deck to fit.