That Guy's Rules for Docking
1. Always put your fenders out when docking.
2. Remember rule #1
If you don't you'll get to spend a day with me like Walter, the owner of a 2022 24' Yellowfin Bay boat. Walter put in at a local ramp as he has many times in the past. His lovely wife (who I met while working on this boat) was parking the truck while Walter was idling. Walter decided "we are just going to be a minute so I don't need the fenders" as he moved slowly into the dock. By this time the lovely Mrs Walter was just ready to step on board. Being a smart boater, she waited for word from Walter before stepping aboard. As the gorgeous Yellowfin nosed into the dock, and I'm quoting Mrs. Walter here, "there was this gawd awful sound like the boat was getting ripped to pieces and I just wanted to die because Walter has dreamed of this boat and he finally got it and it was our anniversary and he only took the boat for me and oh gawd I don't know that it can be fixed!" Walter calmed the Mrs (that night and as she was telling me the story) and managed to call me that week to assess the damage and schedule repairs. I was mid "
WTF has Shane done this time
" so I was able to assure him that the damage to his Yellowfin was within my capabilities.
What's not real clear here is the number of tiny pin holes in the gel aft of the "reverse J" gouges. The overall damaged area was about 24" long, but rub rail to chine high.
I was a bit shocked to see how thin the gel was on the Yellowfin given their reputation and the likelihood that a bay boat would see a bit more banging around than the traditional deep V. If you look close you'll see the tell tail scallops of a bit of glass pullout in this deep gouge. A little Dremel action and that was quickly removed. Some glass-impregnated putty to seal it up was all that was needed.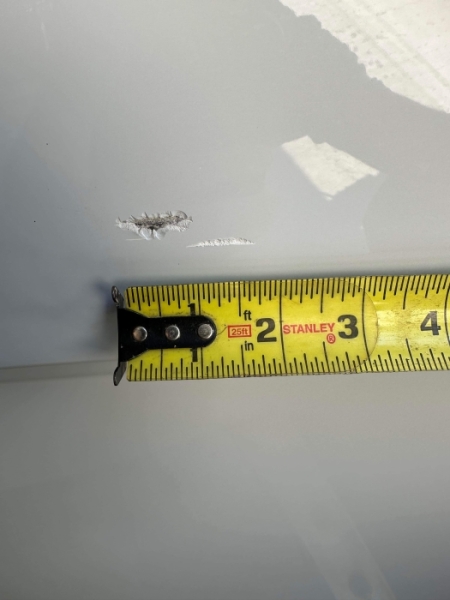 These were a bit more fun. I wound up opening them up quite a bit as the gel was deeply cracked around the edges of the gouges. In a few places I had to chase the cracks to the glass, but nothing was into the glass. Best possible situation.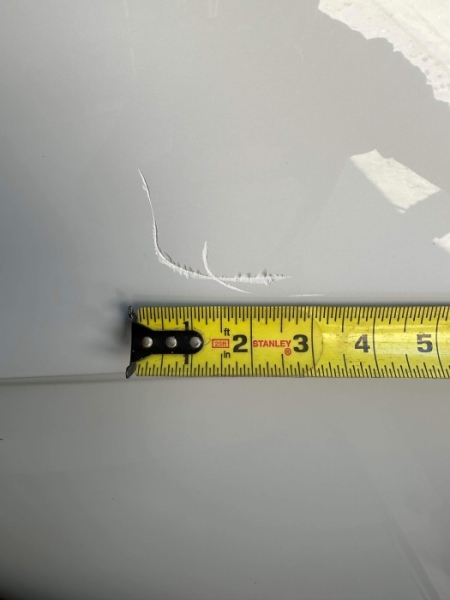 Here we are with the completed repair. The gel was a "close" color match provided by Walter from Spectrum. I did have to color adjust a bit. This gel was a PITA and behaved oddly for me. That said I did manage to get the entire repair done on site in 12hr. 14hr day if you include travel time. Details on gel process:
* glass-impregnated putty for deep gouge repair
* initial gel fill: spectrum cat @ 2%, no thinner, no additive, too much white, cello cover to hold in place, squeezed with bondo scraper, sand with 80gr
* second gel fill: same as above except sand with 120gr
* third gel fill: reduce cat to 1.5%, add wax, reduce white by 50%, no cello, bush and fill pins, sand 220gr
* first finish: cat @ 2%, duratec 904-001 @ 50%, thinner @ 25%, white at 1 drop, spray, sand 220
* second finish: cat @ 2.5%, duratec 904-001 @ 50%, thinner @t 35%, white at 1 drop, sand 220-400
* third finish: cat @ 1.8%, duratec 904-001 @ 50%, thinner @ 50%, white at 1 drop, sand 400-600
* buff/polish light compound and wax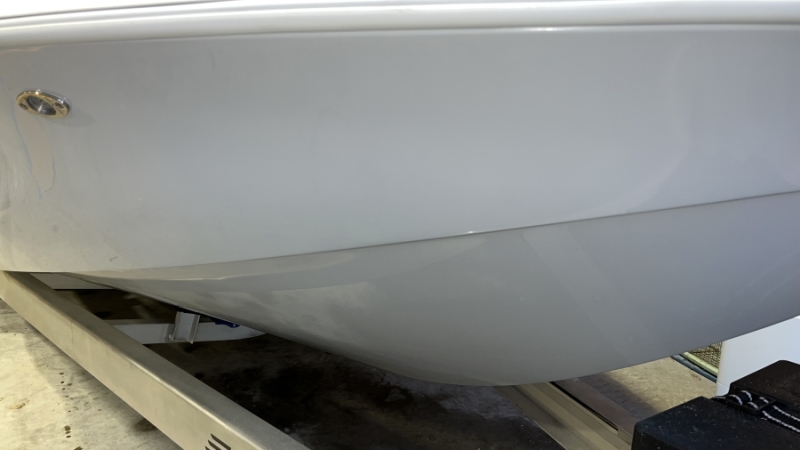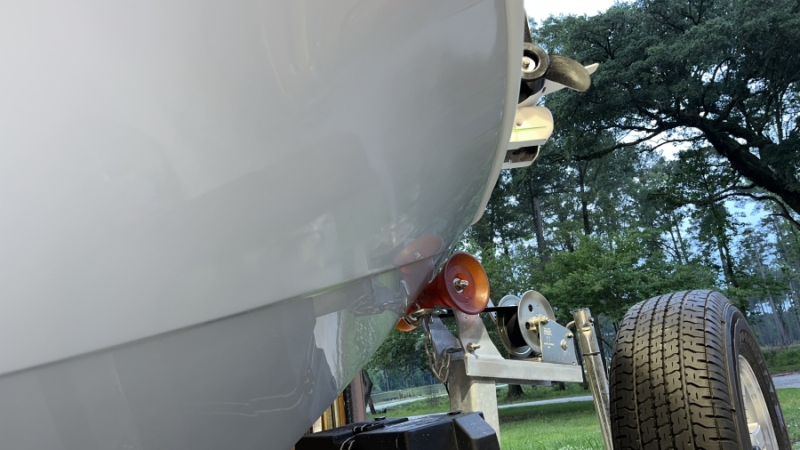 End result was a crying Mrs Walter (she assures me it was happiness and not the bill) and a request for "can we do a retainer for priority should we need you again?" "I only do one boat at a time so there's no need", I assured them. Walter sat with me the entire time and we chatted about boats, fishing, IT, gel and glass repairs, cooking, old cars, and just about everything else. All in all it was a solid day working on a solid boat.