---
Gunwales completed; inwales will be added. I made them wide (23cm, 9'') for safety.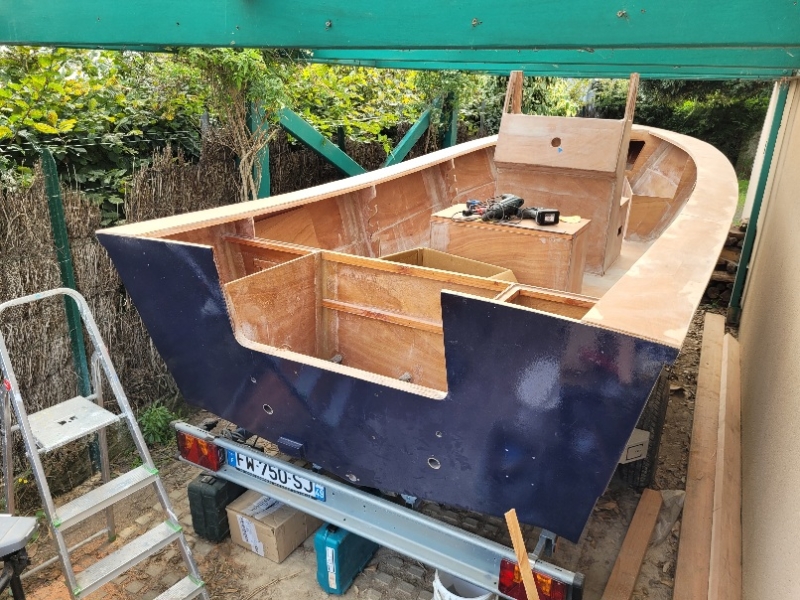 Front benches and lockers built and dry fitted, to be tailored and glued
---
* Bateau Builder - Expert *

Posts: 8875
Joined: Tue Aug 02, 2011 4:23 am
Location: Kasilof, Alaska
Very nice work! I too like them wide, gunnels that is
---
Looking nice

Tom
Restored Mirror Dinghy, Bought OD18 built by CL, Westlawn School of Yacht Design courses. LT US Navy 1970-1978
---
Thanks guys !
Cut the inwales and started to glue them, it takes a lot of clamps so one side at a time.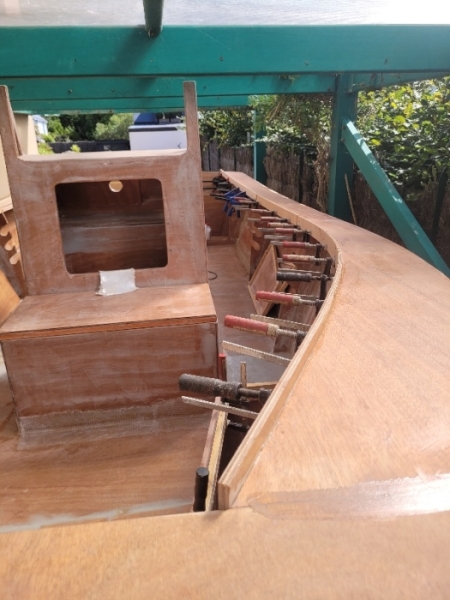 ---
---
Hi all
After a month of interruption due to a motorbike "tour de France" with friends, I'm back at work.
I have completed the inwales, rounded all corners and filleted the edges.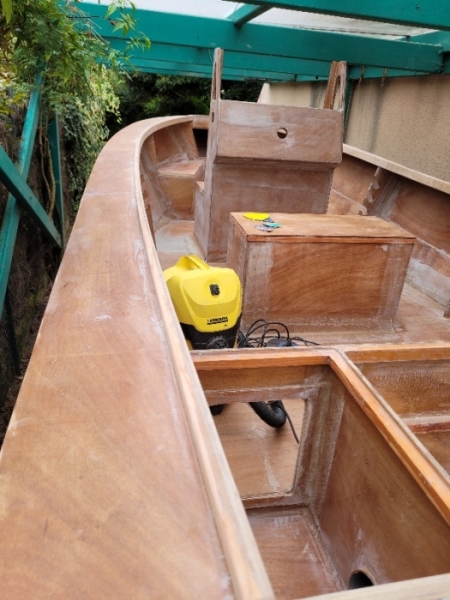 I have also finished building the front benches and lockers.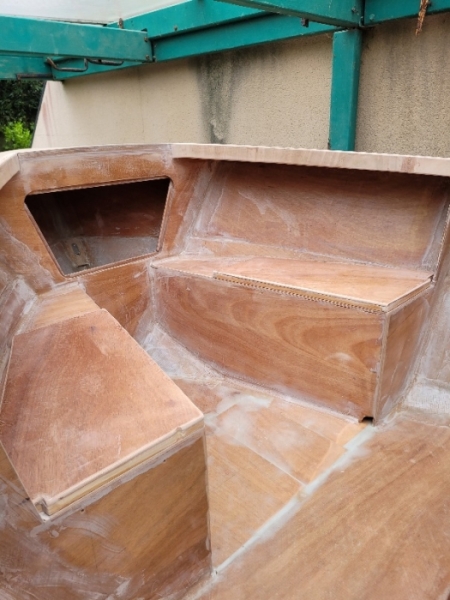 Actually there is no more part to build and install, except closing the rear decks which are already cut and dry fitted, so the construction itself is essentially finished. Feels good ! Now it's time for fairing, installing hardware, painting, then transferring the motor from the donor boat (my RIB). Hope to finish before winter as planned.
I'm also considering installing a keel guard.
---
---
That's it, I have finished preparing the hull for painting, and I started priming the deck today (no pictures of the paint yet).
I have installed the rear decks, built a battery support in the aft port locker, a support and evacuation for the bilge pump, drilled holes for the controls in the console and the motor well, and drilled-filled-drilled hundreds of holes for the deck hardware. I thought it would be good enough and time to paint before winter comes.
---
That looks really good, nice progress!
I see the console wind screen frame is about even with the bottom of the overhead frame, careful measuring on your part?
Hank
---
Users browsing this forum: Bing [Bot] and 0 guests