Well I've had the TX18 plans for quite a while, so it's time to finally start building something.
Project considerations were: Provides a stable fishing platform for max 2 adults and a young 'un. Can power with oars, electric, and little outboard. Fits in the back of my minivan for short trips to the lake. Light enough to load by myself. Gotta fit up the basement stairs 'cuz it's real cold (11 degrees this morning) in the garage.
I live right outside Milwaukee WI. Since it's quite populated, many of the lakes in our area have limited public access (10-20' wide strips of grass for carrying canoes, or access down small shallow rivers). Seems the "fancy people" with waterfront property are sometimes a bit posessive of "their" lake.
Anyway, I have been lurking around here for years, built a S&G canoe a couple winters ago but wanted something more substantial. (Fishing in a canoe with kids.....bad idea. Dogs are even worse....No offense to Captain Sam.)
Thought about a little plastic "bass tender" but only for a minute. Considered the FL12, V12 and some others. But the TX18 is just SO COOL that I figured I'd scale it down and build that. (I'm a sucker for cool looking stuff, shiny things, and things that make loud noises. If I was a fish I'd never have a chance...) Got the plans. The SS18 Sea Sled plans were included. I decided to build that at 55% size and raise the freeboard a couple inches in the rear, creating a pretty much level sheer line. I would have liked to do 65%, but I'd need a wider minivan and some time at the gym to lift it.
Spent a couple hours messing with the plans and the math to get it so it looks about right, then created the stringer and panel dimensions. Raised the sole 3/4" to get more substantial stringers and frames under the floor.
Using 6mm okume for frames, 4mm for hull, double 6mm for stringers.
Since the boat is so small, I decided to build the frames as single pieces (in the plans they are each 4 parts assembled around the stringers). Worked out the nesting to get all the frames out of one sheet of 6mm. That was sweet. Had about 1/4 sheet left over.
Laminated 2 layers 6mm to form the stringers. Offset the joints about 7 feet. The stringers are only about 9 feet long.
Then I set up notches in the frames and stringers so the whole thing could be assembled and glued up. Covered my cast iron tablesaw in plastic, used that as a flat surface for assembly, squared everything up and started mixing epoxy and woodflour. It was way easier than I expected. And after setting up, it's almost perfectly square and level. Pleasant surprise. The sheer line is close, but will end up needing a little adjusting to get it just right.
The fillets are not pretty, they will need some sanding before taping to the hull, but hey, they're under the sole so who's gonna know? Just me and I won't tell.
Here's a few pics of the progress so far. Let me know if they don't show up, I haven't posted any before.
By the way, I would still be slacking on this except for seeing the pics of Daniel Huckleberry's boat. Thanks for the inspiration, Daniel. That's a beautiful boat.
I'll post more as it comes together.
Fred in Wisc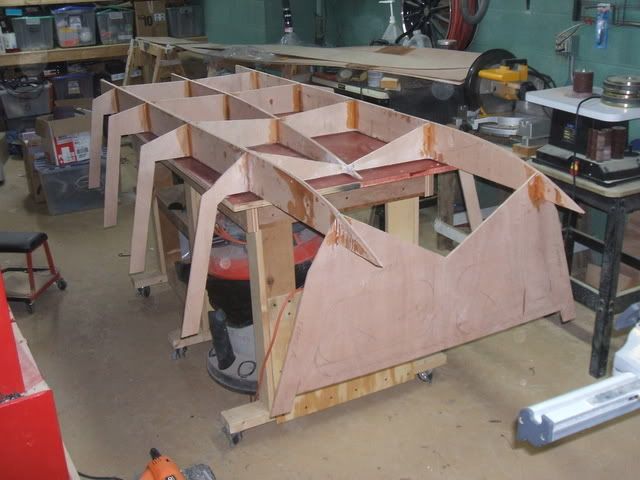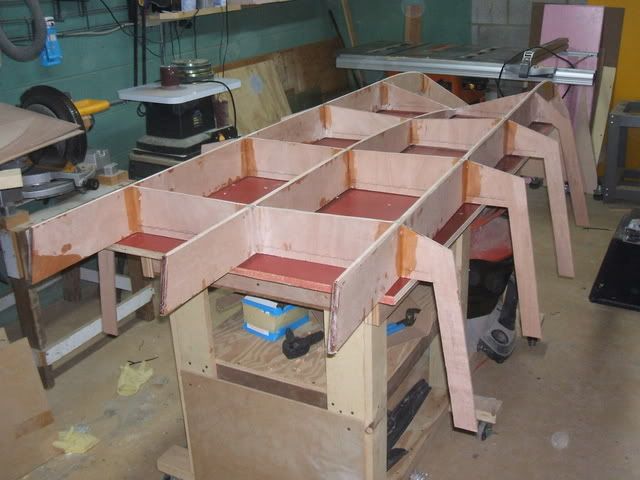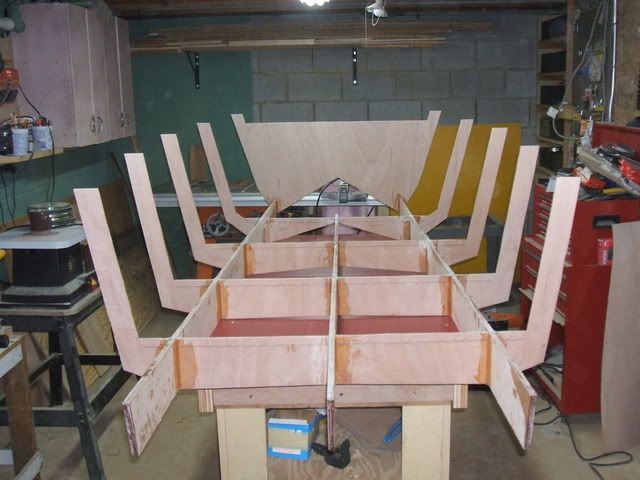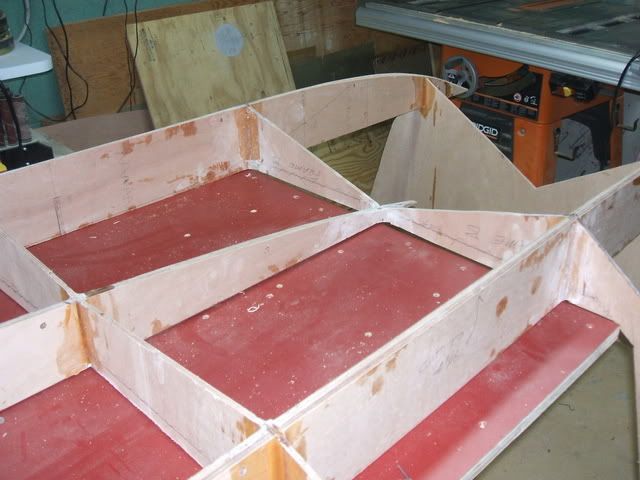 [/img]