Hello to all builders
I'm starting the build of a customized C17 with an open layout and a center console. I chose this plan because I wanted an offshore-capable small fishing boat, easy to launch single handed. It will be powered with a 50hp 4 stroke Yamaha.
It may be named "Fair Enough", to remind me that I have to stop fairing and go fishing instead... I'm not after a boat show finish, more a work boat, as neat as possible compatible with a short build time frame (I hope to finish it this year for next spring launch).
For plywood, I ended up buying full okoume marine in 8mm and 10mm. I can't find 5 plies 6mm marine around here, 8mm is the thinnest 5 plies available, so it will do for the hull sides and bottom. 10mm will substitute for 9 and 12mm, a little too thin for the sole so I'll add some supports between frames because the central span is quite large.
I had to redo all the nesting because the plywood sheets are much larger than specified (310x150cm), but the benefit is that all long panels fit in 2 sheets instead of 3. I added the seats and console in the nesting as well so all is cut from the same plywood.
Otherwise it will be foam-filled, with chase tubes to the console, and above-deck 42 liters plastic fuel tank in the console. Minimal instrumentation (a GPS/sounder and that's about it), a swim ladder, a kicker bracket just in case, a bimini top.
I have cut the parts in my small garage, I'll move to a larger workshop and intend to start the gluing and assembly shortly, waiting for temperature to be consistently above 15°C, which should happen soon hopefully.
First pictures below, to be continued.
Plywood :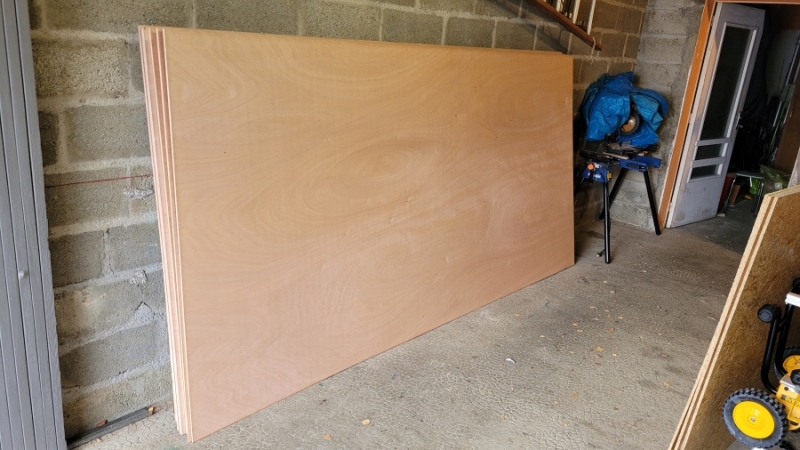 Panels :
Frames with rod holders :
Frames sides are doubled
Console back and front, with seat and space for the fuel tank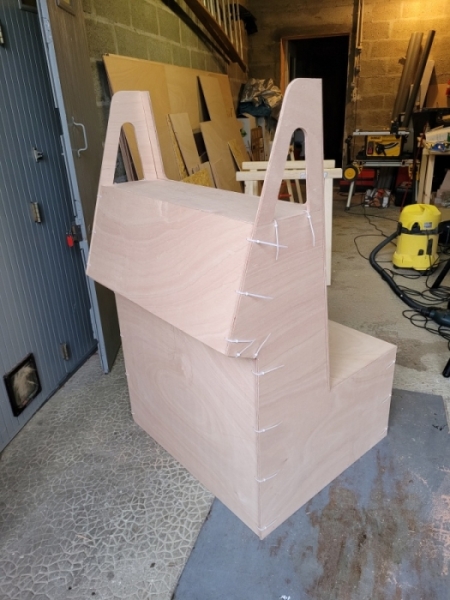 Building frame on wheels